Teaching Online Resources
Resources for Teaching Online
3/17/20
If you are a faculty member reading this blog hoping to find some helpful tips for the mad rush to move courses online... here are a few things specific to GCC. But I have also seen some wonderful communities evolving on social media where faculty from across the world are banding together to figure out how to put classes online that they never imagined moving into the modality. It is inspiring.
GCC uses Moodle and those sections are created for all classes automatically (you probably have one, even if you haven't used it). But for specific Moodle needs you can look at these links.
There are a couple of video conferencing tools that people are using, particularly Zoom and Google Meet. You can find more information about those tools and links here.
There is also a page dedicated to facilitating online discussion and you can find that here.
OpenStax, the folks who bring you OER (Open Educational Resources) are having a webinar on moving to teaching online on Thursday, Mar. 19th and you can find more information here. Thanks to Shannon Compton for that tip.
These are all a basic resources to get you started, but as I find more, I'll add to the list. Feel free to send me suggestions.
3/18/20
Here's a series of articles about teaching online that might be helpful from Campus Technology.
If you have students who need a chrome book, laptop, or hotspot, direct them to reserve it through our Technology Lending Library (more technology will be arriving in the next few weeks).
3/19/20
From Caitlin Worth: Here is a 4-minute video that I just made on getting started with Zoom. Please reach out if you have any questions or want to practice with someone. It's also a great way for me to help people with other technology issues via screen sharing. https://youtu.be/BBHqpjrPbOk
3/20/20
Here's a Tutorial for Using Google Docs
We hope to have all faculty given access to GCC's G Suite by midweek.
From Prof. Deborah Cohan from Inside Higher Ed
(Full Article Here):"

I want this moment to be an opportunity for my students to pause and think about how they might be better and healthier selves, citizens and leaders in the face of uncertainty, crisis, fear and change. I want them to think about how and where they can be of the most service and how they can channel their energy to effect change. I will urge them to think about what they want to hold on to and what they could let go of, and I want them to think about how they want to be remembered. I want to encourage them to dream about how they can chart a course for and about hope, even and especially when it feels like there is none. Aren't these the eternal questions of the human condition and lessons we want to impart on and off campus? It just might be that this current emergency prompts us to re-evaluate our real purpose in teaching.

"
From Alyssa Arnell:
For those of you who may be thinking about holding live seminars online, I want to suggest a quick read for tips on creating an engaging online experience. This is a short article from the American Historical Association. I know that the focus is outside of your disciplines, but you may find some of the author's suggestions helpful.
From Shannon Compton:
FA Davis has resources for Nursing and Health Occupations "

F. A. Davis is an independent, family-owned publisher of educational solutions for the Nursing and Health Science professions

":
In an effort to support instructors and students as they transition to distance education, F.A. Davis has granted students free access to open resources on FADavis.com. This will allow students who don't have Access Codes to make use of all relevant resources by following the steps below:
Log in to FADavis.com (or create an account using ".edu" email address)
Navigate to a specific product listed on the Occupational Therapy page
On the product page, click RESOURCES and select the "Open Access" tab to view all available resources
From Lillian Ruiz (and Laura Garcia):
I believe most unit members know this, but if not, you can activate the new GCC office phone answering machine from your home, retrieve your phone messages from your home phone, and block your personal phone number by dialing *67 before calling a student from your home.
1. Call main campus number: 413-775-1000
2. When you hear recorded greeting, press *7
3. After the prompt enter your extension and #pound key
4. Enter the default password and press pound# key again
5. Follow prompts to set up voicemail.
Retrieving Phone Messages
1. Call main campus number: 413-775-1000
2. When you hear recorded greeting, press *7
The voicemail menu does not include a prompt to change your password. However, after you have set up your voicemail, you can change your password from the default password by navigating to the main voicemail menu - as Lillian said by pressing *7 after dialing into the main number - and then pressing 5 for additional menu options and then 4 to change your password.
3/23/20
Tips for Moving a Class Online Quickly
Shared by Anne Wiley: The Rule of 2s
Let's boil this down. What's most important for us to rethink as we use our precious hours and days to redesign our courses for online and/or remote learning? Work with a colleague, friend, instructional designer, or student to talk through your answers after you fill this out! Are you stumped? Take a look at the example we've attached!
Support for Moving Your Class Online

with

OpenStax:
Shared by Kate Walker:
Tips for Inclusion and Equity in Online Teaching with Professor Chris Barcelos of Think Again Training & Consulting geared toward teachers of college and high school classes Thursday, March 26, 3-4pm Central
3/24/20
Boston Public Library eCard
Online Discussion Tips from UMass' Teaching and Learning Site:
This includes a good reminder:
Consider Issues of Access, Inclusion, and Equity
Since working in remote learning environments is new to many of us, we need to be aware that some students may struggle more than others. Also, keep in mind that not everyone will be able to work remotely from a comfortable, private, and quiet space. In addition, some of your students may have:
Unreliable access to the internet

Only their cell phones to access your course

Technology that is shared with family members

Limited data plans

Responsibilities to care for others
To help you identify your students' unique needs, check in with your students individually or consider sending them a survey to find out what is doable for them during this time of disruption.
Tips and Tricks for Teaching on Zoom
From Inside Higher Ed: 3 Small College Advantages In the COVID-19 Sudden Shift to Remote Education
3/25/20
For Musicians Looking to Collaborate
Google Apps
Today I explored Google Chat and Google Meet (similar to Zoom). They seem like tools with great possibility and Google Meet does not have the time limitation that the standard Zoom license has. It also has a great closed caption function that transcribes what you are saying in real time. Wow!
FYI, it took me a little bit to figure it out, but you can schedule Google Video conferencing through the Google Calendar app.
We (faculty and staff at GCC) all now have access the Google education suite. You can sign into your account at Google.com using your GCC address and password (look in the top right corner of your screen).
3/26/20
OBS Studio is a free and open source software for video recording and live streaming. Great for Facebook Live or other kinds of live streams, or also a simple recorder for basic pre-recorded videos, particularly if you want to use external microphones, cameras, etc.
This is for students younger than community college students (usually), but for 13-17 year olds who want to join a group to talk about solidarity and the social economies, Dr. Caroline Shenaz Hossein from York University has set up Community Economies for Kids Everywhere.
The Mass Cultural Council shared these tips on staying connected online, including virtual tours of museums and sharing project ideas.
3/27/20
From Diverse: Issues in Higher Education:
From The Arts Extension Service at UMass Amherst:
3/30/20
Yamaha's Educator Suite
The Politics of COVID-19, Readings
A group has started a reading list of articles about the pandemic and its impact on class and labor, social toll, future, economic policy, the anthropocene, capitalism, etc. Lots of international articles in multiple languages as well.
McGraw-Hill
Resources for Teaching About Racial Discrimination During the Corona Virus Crisis
3/31/20
Zoom's Work from Home Tips
A lot of us are using Zoom these days. Here are some basic and slightly advanced (Touch up my appearance setting!) tips from the company.
4/1/20
From Academic Impressions
How to Protect Agains Zoom Disruptions
From Victoria Maillo:
This article, "Fostering Student Success Outside of Online Class," is aimed more at student affairs, but the ideas can also be applied to the classroom... surveying students about how they are doing and where they are finding challenges, holding open office hours, etc.
From the League for Innovation in the Community College
4/8/20
From Inside Higher Ed:
From OpenStax:
A series of webinars on using and integrating OER:
4/9/20
F

rom Inside Higher Ed:
"The New Accessibility," a free booklet on accessibility and access to technology for students with disabilities.
Also from Inside Higher Ed:
4/10/20
From Mass Humanities:
From Campus Technology:
From Apple:
From AAC&U:
From Magna:
4/14/20
From Gary Ackerman:
From the Harvard Graduate School of Education:
From a new webinar series, Education Now: "Socially distant--and more connected than ever" about the concrete and protective powers of human connection as a way to sustain our families, our educators, and ourselves through this uncertain time.
From Inside HigherEd:
5 Tips for Teaching Studio Art Online:
4/15/20
From Pearson:
From Harvard Business Publishing:
From Anne Wiley:
One resource I found helpful was attending webinars by ACUE. How to use zoom, how to do micro lectures, how to encourage reading. You can find all five videos of their professional development at:
https://acue.org/online-teaching-toolkit/
4/23/20
From LinkedIn:
From Teaching Tolerance:
From Magna Publications:
4/27/20
From Flipboard:
From Inside Higher Ed:
From Anne Wiley:
From ESRI:
From the Boston Public Library:
From It Gets Better:
From Inside Higher Ed:
From OpenStax:
From Academic Impressions:
From Jenzibar:
From University Business:
From Jamf:
Set expectations for students and teachers

Facilitate engaging discussions daily

Promote peer-to-peer interaction

Offer active learning through projects and breakout groups

Leverage apps and games
From Harmonize:
Finding ways for every student to participate

Options for personalizing learning

Creating online communities

Keeping everyone on track

Setting achievable goals

Analytics for the online experience

Providing the means for student reflection
5/11/20
From Inside Higher Ed:
A Plan for Resisting Zoombombing:

Carlton E. Green provides advice for how to best respond to an incident and care for the people who have been impacted.
5/12/20
From the GCC Library:
Our Moodle page for you is now available! Many thanks to Gary for getting the structure and access for you all. In the future, you can find it under the "GCC Links" dropdown menu at the top of Moodle, just under Gary's site.
The first time you use it, you will need to self-enroll (ask a librarian for the password). Once you have access, you will be able to import anything from our Moodle page to any of your own courses.
From Tim Dolan (for GCC faculty):
We're offering a Zoom training entitled
"Open Educational Resources in the COVID Era."
If you attend the session and agree to write a review of an OER textbook in your discipline, you'll be eligible for a $200 stipend. By reviewing, you don't make any commitment to use that textbook in your course, though of course you'll have that option.
A flyer with more information and a registration link is attached to this email, and the 2-hour training will be offered on two dates in May:
Wednesday 5/20, 2:00-4:00

Thursday 5/21, from 10:00-12:00
From Alyssa Arnell:
[I (Leo) went to this conference in person years ago and thought what California was doing really pushed the envelope of what we could teach online. I'm sure we can learn more from them! Thanks, Alyssa!]

The California Community Colleges Chancellor's Office and TechConnect have decided to move the premier face-to-face 2020 Online Teaching Conference to an online event. Although we regret not being able to come together in person, we are excited to present OTC'20 as a multi-day event at no cost to our attendees. Register Now for OTC'20)
From the AAC&U:
Let's Start with "How Are You Doing?": How Resilience and Hope Can Shape a New Normal for Learning and Teaching
Online, 2:00-3:00 p.m., ET
The ongoing disruption of higher education has provoked significant anxiety in students and faculty. It has also presented new challenges and opportunities to support students' and faculty members' social-emotional learning and psychosocial needs. As campus leaders at all levels anticipate the implications of the "new normal" for the fall semester, how should they be thinking about the intersections of learning, well-being, and resilience? What are the mechanisms for encouraging hope and resilience inside and outside the classroom, and across stakeholders? This discussion-based webinar brings together national and international experts to explore ways campuses can support students and faculty not merely to survive in challenging times, but to thrive.
From Pearson:
"
Moving labs out of the laboratory
" When teaching a science class, we often use experiences in the lab to foster critical thinking skills and reinforce the concepts we introduce in lectures. But with campuses closed, students cannot access the lab.
5/13/20
From Watermark:
Join us for a panel discussion where leaders of online institutions and programs will share their guiding principles, best practices and helpful advice that those new to remote learning and instruction can apply this year and beyond.
Our panelists will share:
Advice for newcomers to distance learning and tips for faculty who have shifted their courses online

Best practices that institutions can use to better engage students online

Communication tips for faculty and staff, as remote work becomes the new norm

Their processes for assessing learning, faculty activity reporting, and capturing student feedback, and key metrics they monitor for their online programs

The impact the coronavirus pandemic has had on their online degree programs and broader institution, including faculty, staff, and student experiences
5/14/20
From the Massachusetts History Alliance:
Getting Good Programs Online Fast
Talking it over with Susan Grabski and Stacen Goldman
Museums and historical seems to be pulling content out of a hat and putting it online faster than you can say "corona." What's their secret? What's your secret?
The Commons team will will be joined by Stacen Goldman of the Framingham History Center and Susan Grabski of the Lawrence History Center. They will tell us what they are up to, we'd love to hear what you are doing.
Friday May 22, 1:00-2:30 pm
REGISTER HERE
From Diverse Issues in Higher Ed:
"Online Education Offers New Ways to Identify and Support At-Risk Students"After colleges hastily moved online in response to the coronavirus, higher education leaders worried for low-income students and students of color. Research shows that underrepresented students experience performance gaps and lower retention rates in online courses under the best of circumstances, let alone in a global pandemic.
But remote education experts have highlighted a possible silver lining. Online education provides new ways to identify students at risk of dropping out and opportunities to offer targeted supports.
From Inside Higher Ed:
Tues

day, May 19th

at 2:00 pm ET

In this interactive presentation, academic and technology leaders from a range of colleges and universities discuss how their institutions and instructors kept students on their educational paths as COVID-19 shut their physical campuses, and how what they've learned from those experiences will shape their plans for instructional delivery this fall and beyond.
From HigherEd Jobs:
"Priorities, Questions, and Challenges of Teaching Online:"
The unexpected demands that many faculty are facing now are as novel as the virus that created them. For some faculty, it may be the first time that they've been asked to deliver their course remotely. For others, even including those with online teaching experience, the underlying stress of balancing competing demands in uncertain times can weigh on them. This month we talk to John Oppenheimer, an instructional designer/technologist at the University of Wisconsin-Madison, who provides advice on how faculty can successfully navigate the transition.
Diverse: Issues in Higher Education
Research shows that underrepresented students experience performance gaps and lower retention rates in online courses under the best of circumstances, let alone in a global pandemic. But remote education experts have highlighted a possible silver lining. Online education provides new ways to identify students at risk of dropping out and opportunities to offer targeted supports
Puddle in the Montague Sand Plains this weekend.
Meeting the challenge of providing special ed. remotely
With school buildings closed and remote learning in place for the rest of the school year, here is a look at how Franklin County school districts are handling the challenge of providing services to students with special needs.Frontier and Union 38 regional school districts School officials have said...
5/19/20
5/20/20
Today's Online Teaching Tips:
From Teaching Tolerance:
Supporting Students Through Coronavirus
We're grateful to educators continuing to support students and families through the COVID-19 pandemic. We've developed resources to support student well-being and learning during closures, including articles about culturally responsive teaching, addressing coronavirus racism and more. We'll keep
this page
updated as we publish new pieces.
From The New York Times:
What will college look like in the fall?
Many colleges and universities in the U.S. are now grappling with how and when to reopen their campuses and what college life will be like under a pandemic. They are coming up with a variety of answers.
Our higher education reporter, Anemona Hartocollis, listened in on two days of Zoom calls among leaders at the University of Kentucky as they deliberated over what to do. They discussed all kinds of issues, from whether to have quarantine dorms to how to regulate interactions between students. Anemona told us about the experience.
From University Business:
I would like to invite you to our upcoming web seminar on Thursday, May 21 at 2:00 ET, entitled Getting Started Online: Research-based Practices to Support Quality Teaching and Learning.

Many institutions have had to make a sudden transition to online learning. Even under ideal circumstances, making the transition from in-person teaching and learning to an online environment is a big step.

In this webinar, we welcome experienced instructional design experts from D2L, who will discuss research-based best practices and effective strategies for moving any college or university to an online learning environment.

We're looking forward to a very informative presentation and discussion, plus live Q&A.

Even if you aren't able to attend the live event, feel free to register and you will receive access to the presentation and the event recording.
From the Online Learning Consortium:
A newly released, faculty-focused playbook from Every Learner Everywhere provides much-needed expert resources and guidance to assist higher education faculty in their journey to online teaching in response to COVID-19.
The playbook was developed by the Online Learning Consortium, the Association of Public and Land-grant Universities, and Every Learner Everywhere, with support from the Bill & Melinda Gates Foundation.
The playbook provides a path for continuous improvement of instruction along a quality-oriented continuum.
Design guides immediate and basic needs for moving a course online.
Enhance provides options to strengthen the student learning experience.
Optimize offers ideas and resources for online teaching that aligns with high-quality, evidence-based instructional practices.
Learn more and download.
5/21/20
Today's Online Teaching Tips:
From LinkedIn:
From Campus Compact:
Connecting in an Age of Uncertainty:
Utilizing Dialogue to Build Belonging and Student Success
A Workshop with
Essential Partners
| June 9, 2020 | 9:00 AM - 11:30 AM
This workshop will explore the power of dialogue to build connections, emotional intelligence, patterns of civic engagement that will prepare your students for the coming school year – distanced or in person. Adapting their 30 years of experience designing and facilitating dialogue into a virtual space, Essential Partners will assist campuses to explore how dialogues have the power to shape your students' experience of this challenging times, bring them back to campus in the fall deeply rooted in their own strengths, invested in one another, and committed to participating fully in college life.
From Kaltura:
It's time for online learning to evolve.
In every crisis is an opportunity. This is a chance to take education forward. The trends that have been gathering steam - self-paced learning, greater personalization, active and interactive learning, analytics, competency-based education - are trends that can help us overcome the current situation.
In the whitepaper "Taking Higher Education Virtual: Setting Yourself & Your Students Up For Success," explore how to take advantage of some of the emerging trends and technologies to make sure that your school successfully serves its students, no matter what happens in the next few months.
Let's see how.
Read the Whitepaper
May 26, 2020
From Pearson:
Pearson is making
a wide range of resources
available to help college faculty and students shift to online learning. Offerings for instructors include videos and resources to increase teaching effectiveness and how to use screencasting to gather student feedback. Student can gain access to online textbooks and find guidance on how to best engage in online learning, including
"Being an introvert in the online world."
May 27, 2020
From ACPA:
Online Teaching and Learning
From Research by GCC Writing Tutors, May 2020
GCC Writing Tutors searched for information regarding online teaching, and they shared their own suggestions, based on their experiences in online courses, as well as the experiences of students they tutored. Below is a brief summary of their findings.
See also "Online Learning: Tips for Students," posted on the Peer Tutoring webpage.
From Chang:
Include reflective activities; reflection enables metacognition, giving learners the

opportunity to look at their process, understand what is and isn't working for them, and

do better in the future.

Asking students to share their reflections can help overcome the challenge of building social connections in the classroom.





From Dykman and Davis




Standardization, Organization, Planning
Plan every element of the course ahead of time (assignments, materials, schedule, online layout, course rules and guidelines, and learning objectives), in order to avoid confusion for students. Then, stick to that plan.

Standardize visual presentation on the platform: assignments, drop boxes, reading materials, discussion forums, announcements, videos, course calendar, tests and quizzes, chat links, etc.

Have workload at start (and end) of course lighter, allowing students to adjust to the course (and leave it) with minimal stress.

Be consistent and clear, so student isn't navigating a complex online system while also

keeping up with rigorous coursework.




Technological Fluency of Instructor
•
Engage in training; get familiar with the technology and all its functions.
Communication: Clarity and Frequency
Communicate clearly and frequently with students.

Send a thorough and friendly introductory message to students; give them a sense of the




tone and teaching style of the course.

To foster a sense of community, have students post self-introductions on the forum.

Strive for much interaction with students, via email, instant messaging, phone, or video.

Keep in touch with students individually; if the student knows you are engaged in




communication regularly, they are more likely to be engaged as well.

Clearly state academic expectations, values, and learning goals.

Articulate exactly what has to be done, in what manner, by whom, and when; provide a




clear outline of grading criteria.

Respond to student questions promptly and thoroughly.

Share individual questions (anonymously) with the full class.
Comment on forum posts.

Determine if students should be able to see previous posts from students, before they post




their own.

Determine whether students should be required to respond to each other's posts.

Don't assume that online courses are easier (or less time consuming) to manage!

If a student "disappears" (st

ops responding to emails, stops turning in assignments and/or




posting to forums), pursue them doggedly for a response.





From Moore and Hodges:
Create a class communication plan, so students know where to go and what to expect.

For online, students require very clear instructions and prompt feedback, so make sure




you provide students clarity on what to submit, how, and any associated handouts for an




assignment.

Create a page with a table on it that quickly summarizes for students each week

—

what




they'll

need to have ready, any assignments due, any recorded lectures, and any live




sessions, with links as necessary to these.

Connect with support staff at your school to help you ensure your content is accessible.





From McManus, Dryer, Henning

(regarding working with students with mental health disabilities):
They may have a harder time adjusting to new learning environments. Online, they can

also engage in "ne

gative self-talk

," which can drain their energy and self

-confidence and

can contribute "

to greater difficulty in dealing with the uncertainty associated with

learning new materials."

Fear can paralyze students; they may need extra time to complete tasks.

Email messages can sometimes appear harsher than intended; the student might think an




instructor is angry with them.

I

f students don't get prompt responses, their anxiety can increase.

Students with mental health disabilities often rely more heavily on their relationships




with their professors and peers in order to be successful in college, and the online learning environment does not always foster these connections

—

causing students to struggle to motivate themselves.

If students have writing anxiety, participating in online forums or even writing an email can be extremely difficult for the student.





From Simplicio:
Establish and maintain personal connections (with the subject, instructors, peers, and academic support resources).

Make sure students are ready for online classes. Ask students certain questions before they are allowed to

enroll in online courses. Gauge the student's skill and familiarity

with both the subject and the technological proficiency required for online learning.

Use initial assignments to set the tone for each student

'

s engagement in the course and their belief in their ability to be successful.
Assign group work, providing the opportunity for students to "develop a teamwork mentality" and a sense of "peer support, emotional backup, and a better opportunity for academic success."

Schedule regular and fixed contact times, including one-on-one meetings between student and instructor.

Use campus resources and support systems, and make these known to students.





From Yeh:
Construct a positive atmosphere.

Provide options for group assignments.

Provide reminders of assignment-related work.

Foster interactivity between student and teacher, as well as between students.

Incorporate online discussions and group projects.

Encourage students to help each other.

Create community.





From Tutors:
Have virtual video office hours, not only phone and email ones.

Have a consistent format for titling, using identifying words, numbers, and abbreviations.

Meet with students, one-on-one, each week over Zoom; even 10-20 minutes at a time.

Organize assignments by deadline on Moodle.

Make sure video and audio lectures are available in a universally accessible file format.

Make sure videos have captions . . (make sure) important information covered during




lectures is also available in some sort of written format.

If possible, post the Zoom classroom link in a prominent spot on Moodle, rather than




emailing a new link at the time of each session.

Not all students have access to Word. Share assignment sheets as pdfs, or write them




directly on Moodle.

If possible, avoid assignments that need to be printed; printing can be expensive or




difficult to access.

To maintain consistency and predictability, try to stick to Moodle as much as possible,




rather than email, for sharing documents.

To help avoid instructor (and student)

"burnout

,

" specify if some assignments can be




done in list or bullet format, rather than prose.

If there is variation in the weight of assignments, label these as such

—

which are optional,




which are high priority or low priority, etc.

In the syllabus, outline the pace and order of assignments, and use clear and consistent




patterns (for example, there will be 3 short reflections, 1-2 pages each, 1 per week; then, 2 longer pieces of analysis on a topic of your choice, 3-5 pages each; and at the end of the term, 1 final research paper, 5-7 pages long).

Have faculty already familiar with online learning assist those who aren't

; implement some sort of support system for faculty.

Most common complaint from peers regarding online courses: lack of communication and clarity from professors.
From It Gets Better:
Our EduGuide for the Academy Award-winning film Moonlight is now available in Spanish. Click below to access both the English and Spanish-language versions.
From Higher Ed Jobs:
Soft Skills and Online Learning: Why Should We Care?
by Russell S. Thacker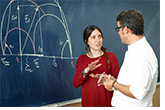 College students often gain as much between their classes as they do within them. That's not to say the classes aren't excellent, but simply that much of our learning occurs in ways we don't expect, such as through sidebar conversations, internships, and leadership roles in student organizations. Such experiences teach students soft skills, but what happens when higher education for millions of students is suddenly reduced to a virtual Zoom or Blackboard connection? How do students continue developing their interpersonal skills and building their social capital?