Day 412, May 3, 2021
Grateful Dad
Tonight's soundtrack: The Miles Davis Quintet, Stockholm, 1967
Growing up, I never really fathomed that my father was an artist. My friends fathers were plumbers, eye doctors, business men. I knew my father would travel for several weeks a year and return with a carousel of slides to show us about all the fantastic sights he had seen. It seemed like a normal thing, it never occurred to me how grandiose it must have been to have a chartered jet plane ferrying an entire symphony orchestra and their instruments to China and beyond. It is every bit as fantastic as seeing photos of Led Zeppelin's plane, or the Beatles arriving at JFK, I just never realized it.
Music was always a part of his life, the rhythm of practice, rehearsal, and performance, repeating itself week after week in seasons, that are not unlike the academic calendar, where pops and symphony exchange tuxedos and programs and special guests. And because music was a part of his life, it was a part of our lives too.
I'm not sure, but I think the first time I saw Santa was probably on stage in Symphony Hall.
In addition to his professional work, all my life, my father has also been a teacher, and in more recent years, has focused on the youngest of children, nurturing their burgeoning talents. He has such wonderful joy watching them perform, I can only imagine it must seem like a strange study of contrasts, like a renown novelist teaching grade school children how to read. There is something beautiful there, that reminds me of his childhood story about how, after the war, a man who lost his family started a children's choir, and in that group of children, he recognized that my father had something special and convinced my grandparents to invest in a violin, a very hard to come by commodity in the post-war era.
How incredibly lucky it was that my father joined that choir and that man recognized my father out of all the other neighborhood children. How incredibly lucky it was that his father was able, after several tries, to have a violin smuggled into the country like contraband.
It is a beautiful story of birth and emergence. Equally moving is the story of my father sneaking into a listening room where people gathered to smoke, drink, and listen to records, which were also a rare and banned commodity after the war. He was transfixed by what he heard, and when he looked to see what they were listening to, it was a recording of the Boston Symphony Orchestra performing Hayden's Symphony No. 102 in B flat from 1956. Who could imagine some 16 odd years later he would be walking into that same hall carrying his violin?
It is my father's birthday today and I feel incredibly lucky to have had him as a role model, and while I have not achieved his virtuosity in anything I do in my life, I have learned how to work at a thing, to embrace it with one's being, and how to go beyond that and seek joy and fulfillment from other things as well. My father is also the car mechanic, home repairman, mushroom hunter, oil painter, fisherman, potter, gardener, and improvisational chef. I suppose part of that was the thrift and self-provisioning of an immigrant, but I think it was also the way he approached life. If there was something he admired or needed, he learned how to do it, how to get it done, whether it was changing out a leaky oil tank in the car, or replacing the basement water heater, or emulating Monet's water lilies. He has always been excellent at almost everything he does. It is an incredible skill that emerges from his self as a musician, I think. He knows intuitively how to integrate precision with confident expression. I on the other otherhand, rely too much on brute force and inertial momentum, and those only carry me so far.
There are lots of people I have grown to admire over the years, all the various mentors I've had the privilege of working with, colleagues, friends, I am grateful to arrive at an age where I can appreciate all that my father has passed on to me, and feel lucky for it.
Be well,
Leo
From Our Friends:
From the Boston Public Library:
May Is Asian/Pacific American Heritage Month!
Check out our second annual
APAHM booklist
with recommendations for 77 books that celebrate the Asian and Pacific Islander experience in America. Follow us on Twitter
@bplboston
to get daily reading recommendations from the booklist.
From Higher Ed Jobs:
Supporting LGBTQA+ Faculty and Staff on Campus
by Dr. Cobretti D. Williamsand Jesse Beal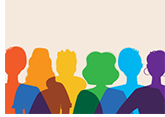 In honor of Campus Pride Month, it's important to consider the progress made to embrace and include LGBTQA+ identities in the college campus culture. We should be proud of the efforts made to support students in this minoritized community. However, there is more work to do in addressing the needs of faculty and administrators who identify as LGBTQA+. Jesse Beal, director of the LBGT Resource Center at MSU, shares their perspective on the topic.