Day 340, February 18, 2021
The Diaphanous Road
Tonight's soundtrack: Dr. John with The Meters, Professor Longhair, and Earl King, 1974
How do you make a difference in education? How do you help shape a person's identity? How do you infuse critical thinking and a sense of agency?
In my own history, I think about my rebelliousness, and a stubborn determination to do things independently. But I don't think that is an easy thing to endure or inspire.
With my own kids, I've tried to inspire those things, but through love and encouragement. Sometimes I have been more successful, and other times less so. As a parent, I have always been the one to try to distract them from their sorrows, to try to fix the problem, or to get them engaged in something else to get them to move on. In hindsight, I guess that seems like a very male role, like the dad who takes the frustrated kid out to play basketball until they are both hot and sweaty and then they have a special moment... except that I am terrible at basketball.
I tend to think, if you can inspire empathy for other people, that will shape how one moves in this world. How do you help someone move from the self centeredness of childhood and expand that vision to others. The best way I can think to affect change in that way is by becoming an educator. You need to expose people to other people who have a different perspective on the world, who are concerned with more than just their own well being. At all levels of education, it is that compassionate teacher who can be that example....
I'm having trouble focusing tonight because I'm thinking about a member of our extended fur family who has gone missing. So I figure I will just go with it.
The moon
has grown soft in her old age
like a brush that has been worried
between fingers.
I remember when she was only
good natured
and docile
like a warm summer night
when you are seventeen.
The desire to anthropomorphize
an orbiting satellite,
a child of God,
a dog,
there is only this,
or that we imagine ourselves
more canine-like in our emotions,
in the structure of our family.
I am glad that you are
wandering.
You always
like that
to
drift
away like
a innocent friend
along just for
the ride.
Who
could
blame you,
the call of the road
glistens and
it has never
steered you wrong.
Look at the life you have lived.
There is no greater
evidence that
there is
a reason to
things
and
eventually
you find where
you are
going.
Luna when she was all fresh and young.
From Our Friends:
From ARISE:
Drs. Ruthmae Sears, Naomi Jessup, and Lou Matthews draw upon their years of experience as Black authors, scholars of Color, and STEM educators to outline needed repairs to the STEM teacher pipeline that will offer sustainable access, opportunities, and outcomes for teachers of Color. In celebration of Black History Month, we invite you to check out their recommendations for building identity, valuing diversity, and providing support to ensure that STEM teachers of Color not only survive in their profession but thrive!

Sincerely,
The ARISE Team
From the Poetry Center at Smith College:
Victoria Chang
Tuesday, February 23 at 7:30 PM EST

Of Victoria Chang's third collection, The Boss (McSweeney's Books, 2013), G.C. Waldrep writes, "Victoria Chang is to the business world of 21st-century America what Julian of Norwich was to medieval European Christianity: a shocking herald, an empathetic lens." A Guggenheim fellow, poet, editor, and children's book author, Chang has written five books of poems including The Boss, winner of the PEN Center USA Literary Award and a California Book Award, Barbie Chang (Copper Canyon Press, 2017) and, most recently, Obit (Copper Canyon Press, 2020), nominated for the 2020 National Book Award and named a best book of the year by NPR, TIME Magazine, and Publishers Weekly. Chang currently works as the Program Chair of Antioch University's MFA Program and lives in Los Angeles with her family.

Zoom Registration Link:

https://smith.zoom.us/webinar/register/WN_B8yPOVs8Rl-YeeINL19Q4w
From NCORE:
Accepted to Assimilate: Implications for Racial Mismatch Between Education Ph.D. Students and Their Faculty
Guided by existing literature on racial mismatch in K-12 and undergraduate settings and their positionalities as Black Ph.D. students at a traditionally white institution, these student scholars will present a theoretical framework for scholarship questioning the ways in which racial/ethnic mismatch between programs' tenure-track and tenured faculty and their Ph.D. students shape the racialized outcomes and experiences of the latter group.
Live captioning and sign language provided.
NOTE: This webinar will be held LIVE Wednesday, March 3rd, 2021, from
3:00-4:30 CST.
From Higher Ed Jobs:
The Legacy of HBCUs During Black History Month and Beyond
by Andrew Hibel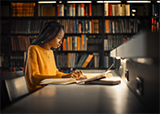 In this Higher Ed Careers interview, Andrew Hibel spoke with the President of the National HBCU (Historically Black Colleges and Universities) Alumni Associations Foundation, Tyrone E. Couey. Honoring Black History Month, Couey comments on the current state of HBCUs, how they have weathered the pandemic, and their legacy and future.
From ACE:
Strong student engagement is possible in a virtual classroom, but it requires outside-the-box strategies and support services that consider student struggles such as food and housing insecurity. Join a panel of faculty and experts for an interactive discussion on virtual approaches to help close gaps in equity and engagement. Presented in collaboration with CodePath.
From Mass Poetry:
In March 2021, Mass Poetry will host a series of writing workshops exploring the theme "It is burning./ It is dreaming./ It is waking up.: Poetry & Environmental Justice" as part of a national collaboration with the Poetry Coalition. Full details about the project and the coalition partners can be read in the press release on the Academy of American Poets website.

For Mass Poetry's project students, teachers, and community members are invited to virtually participate in writing generative workshops around the themes of water and environmental justice.

Workshops will include:
Ocean Sounds with Elizabeth Bradfield, March 11, 7-9 PM EST
Shipwrecks with Eleni Sikelianos & Lucía Hinojosa, March 23, 7-9 PM EST
TBD with Brenda Hillman, March 30, 7-9 PM EST
Thank you to everyone who signed up for Elizabeth Bradfield's workshop! We've officially sold out of seats but you can join the waitlist on Eventbrite.

From the UMass Fine Arts Center:
Mirror Mirror: The Prints of Alison Saar

Virtual Reception for the Artist, Thursday, February 18 at 5 p.m.

Alison Saar's works narrate stories of the African American experience, moving effortlessly from the personal to the political. In many of her works, she charts the tragic history of slavery in America, but her figures symbolize defiance and strength. Other recurring images are informed by jazz, romance, and desire. Through decades of work, Alison Saar has used the power of art to tell stories, and especially ones that matter.

Registration for the reception is free but required.
From the It Gets Better Project:
Visit our Get Help center and connect with over 1,100 organizations working to provide resources and/or services on a variety of issues to the LGBTQ+ community.