Day 338, February 16, 2020
Precious Gifts
Tonight's soundtrack: The Joe Pass Trio, 1989
I began last night by writing, what do I remember?
I have been working on a story about remembering, and how hard it is to remember sometimes. It is pleasing to be writing fiction again and exploring what happens to the characters. I feel like an expectant father early in the gestation, excited, but too nervous to tell everyone about it yet... but still, there is something there.
Icy morning.
I suppose I fancy myself something like a more mediocre, prose bound, William Carlos Williams, who would turn to his typewriter in-between patients and hammer out nothing but images. For me, it has been at breakfast before work, one small notebook page at a time. In my imagination, each notebook page actually holds several pages within its scrawl to adequately flesh out the idea. As it stands now, each notebook page is its own vignette. And just this morning, I think I realized what the section break would be, or maybe next chapter.
The thing is, I haven't written fiction for a long time.
I have been thinking about it a long time. I kept a few of my creative writing textbooks with the idea that it would be helpful to give myself exercises to brush off the cobwebs. The old books from my teaching days remained in the cardboard boxes and have been altogether ignored. But what did happen, was the thing that used to happen, I woke up with a sentence in my head. I woke up and knew it was something important. I repeated the sentence over and over until I was awake enough to realize I needed to write it down. Of course, in today's parlance, the phone was the thing on my bedside table, and so in the predawn light while trying to fend off an amorous cat, I typed out the first few sentences with my thumbs.
There are so many variables for capturing a moment of inspiration, but often it comes down to the most basic of things. Do you have a writing implement? Do you have the clarity of consciousness to record the idea? One of the most challenging times to have an idea is when you are riding a bicycle. When I used to ride to work in Greenfield, sometimes I would get a snippet of a lyric stuck in my head and I would sing that line and a half, or maybe even just one or two phrases, over and over to the cadence of my pedal. It became like a mantra as I tried to not let it slip out of my mind. It became such a cycle of sounds that they began to lose meaning, and then once the words just became sounds, I would forget what it was I had just spent the last five or six miles chanting.
But, if I can write it down, I usually find those little moments of inspiration give fruit to more imagination and more inspiration than the more practiced rituals of routine, or products of exercise, give. So I have to constantly remind myself to not let those moments slip by. They are precious gifts. We all have those in our own ways, those moments in our day, week, life, where we are given something, and we must choose to engage it... or let it go. Here's to hoping we all have the clarity of consciousness to embrace those moments when we can.
Take care and be well,
Leo
Hambone strutting her stuff.
From Our Friends:
From the Poetry Center at Smith College:
Victoria Chang
Join us next Tuesday at 7:30 p.m. EST for a poetry reading with Victoria Chang followed by a conversation with Dana Levin. We hope to see you there!
From the UD Human Rights Center:
Gender, Science & Human Rights
In celebration of Women's History Month, we are pleased to host a series of conversations that address some of our most pressing global problems. With sharply rising social inequalities and recent challenges to the legitimacy of science, we are in desperate need of measured dialogue. These conversations spotlight insights from experts and activists who are doing innovative work to make the world a better place.

Co-Sponsors of this event include the University of Dayton's Women's Center, Women's and Gender Studies Program, and the American Association for the Advancement of Science.
From the Mass History Commons:
"Get Up, Stand Up": Advocacy Success Stories
February 19, 2021, 1:00 p.m. - 2:30 p.m.
Advocacy doesn't just happen on Capitol Hill. It starts in our neighborhoods and community centers, when we commit ourselves to a cause and communicate our passion to friends and associates. In a world of explosive issues and headline grabbers, how do we make a compelling case for history work? How can we craft an effective proposal and build the momentum to make a difference? Join panelists Dan Everton, Project Lead and Community Archivist at New Bedford LGBTQ+ Archive, and Diane Pursley, Chair of the Turning Mill Association, for a conversation about advocacy success stories and what we can learn from them. Bring your questions and reflections!
REGISTER HERE or visit the Mass History Commons to learn more.
From Higher Ed Jobs:
Sharing Diverse Narratives Through Solidarity
by Sekile M. Nzinga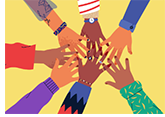 Sekile M. Nzinga, author of "Lean Semesters: How Higher Education Reproduces Inequity," is one of HigherEdJobs 2021 Authors in Residence. She is kicking off her blog series with an inside look at her inspiration for the book. She says her motivation for completing it had little to do with her academic career and considers "Lean Semesters" a solidarity project and a witnessing project.