Day 178, September 10, 2020
Xanadu
Today's Soundtrack: Steely Dan live at the Shoreline Amphitheater, CA 1993
I grew up going to a Korean Catholic Church. The weekends were always stark demarkations from my weekdays in a Boston suburban school. I didn't realize it at the time, but it was a real gift to be able to immerse myself in Korean food and culture over the weekend, even if I was mostly resistant to it. I had this idea that I, out of all the Korean kids, did not fit the expectations our parents and society held for us. It seems comical looking back now as I see my friends who have become artists, writers, and film makers. It seems I was in the midst of a whole group of people who were hungry to express themselves and reach beyond the tropes that we thought defined us.
You can tell even in Korean church camp
I fancied myself a writer.
But, there was also the amazing aspects of community. How a burgeoning generation of immigrants coalesced around a church in Brookline... would go to a state park for great sprawling picnics where the air would be filled with the smell of grilled bulgogi and all the hills and fields would be filled with screaming, yelling, and laughing Korean kids. We were all given a great deal of autonomy at these gatherings, at any of our church gatherings, and it seems incredible we didn't get ourselves into more trouble than we did.
I suppose it was one of those, you-don't-know-it, but-it-is-a-good-for-you things. Today, I shared a few messages back and forth with one of my childhood friends. It is amazing to think we are all adults now, writing about our parents and how they are fairing, there was even talk of pensions and retirement. It is funny to think that in the frenzied tumult of church parties, I would fall asleep in the great pile of jackets thrown on someone's bed as our parents drank, played cards or yut, or danced until the early hours of the morning. It was a marvelous time to be alive, I'm sure. I don't think I ever had anything that could compare to that kind of community in my mostly agnostic existence where the largest community gatherings were potlucks with bandmates. I suppose I did have occasional parties when my kids were little, but in my memory of childhood, it seemed like an almost weekly event at a rotating range of houses.
It was my Korean friends who introduced me to Olivia Newton-John in Xanadu (I remember nothing about the movie except Olivia Newton-John), The Police, the B-52s, and that Korean people could be cool or attractive, even if I didn't fully comprehend it at the time. Outside of the weekends, I was none of those things, and I was woefully out of touch with popular culture.
It is hard to replicate those things as an adult in rural Western Massachusetts. As a student wrote recently, I find that I am no longer a young man. Many of those aspects of community I had as a child feel as distant and out of touch as my childhood friends who I haven't seen in decades. But I retain all those things. I remember how the priest used to bless the parishioners' new cars after mass, I remember how Charles and I snuck back into the movie theater's side door to watch The Final Countdown three consecutive times (I think his mom, who was supposed to pick us up was very angry). I remember how the kids who were a little older than me came back from Korea with fantastic hairdos, almost pompadours with lots of product. I remember all the mothers assembling bibimbap in assembly lines as we greedily snapped up bowls to wolf down. I remember having a Korean Santa, having an awkward basement church dance with all the other kids, and later, when I was older, sneaking outside with the uncles to have a cigarette. Who would have imagined those episodes would become treasured memories.
Tomorrow I begin my penultimate year of my forties and realize, unless I manage to live as long as one of my grandfathers, I have in all likelihood passed the halfway point of my life. It is strange to think, it could be possible that I might live my life's distance again, from birth until today. My grandfather lived to 104, so I suppose that is possible. Though, I think he spent the last few years napping on my parents' couch.
Time is funny in that way. I could learn to talk, walk, drive a car, play guitar, do calculus (and then forget how) all in that time. I could create a whole lifetime's worth of memories that I will later cherish with the same fondness that I have for my childhood now... if this damn pandemic ever ends. And it will. We just all need to make it through.
Take care and be well,
Leo
This might be first communion. My friends Sang stands behind me.
He was a marvelously gifted athlete and passed away too young.
From Our Friends:
From the ACLS:
Please join us for an afternoon discussion moderated by Joy Connolly, President of the American Council of Learned Societies, and Alondra Nelson, President of Social Science Research Council, featuring Khalil Gibran Muhammad, professor of History, Race and Public Policy at Harvard Kennedy School, the Suzanne Young Murray Professor at the Radcliffe Institute for Advanced Studies, and Director of the Institutional Antiracism and Accountability Project, and Bianca Williams, Associate Professor of Anthropology at The Graduate Center of the City University of New York (CUNY).
From the Poetry Center at Smith College:
Mark Doty
Tuesday, September 22 at 7:30pm
"A new book of poems—or of anything—by Mark Doty is good news in a dark time," W. S. Merwin once wrote. "The precision, daring, scope, elegance of his compassion and of the language in which he embodies it are a reassuring pleasure." Mark Doty is the author of nine books of poetry, three acclaimed memoirs, a lyric book-length meditation on the art of the still life, and, most recently, What Is the Grass (W. W. Norton, 2020), a personal interrogation of his life-long relationship with the work of Walt Whitman. In awarding the National Book Award in 2008 for Fire to Fire: New and Collected Poems, the committee described Doty as a "master" whose poems convey "ferocious compassion." Doty teaches at Rutgers University, where he serves as Distinguished Professor of English and Director of the Writers House.

Registration Link:
https://smith.zoom.us/webinar/register/WN_3MikvuwkQrOKv9a6NSlduw
From the New York Times:
We spoke with Wendy Red Star about what it was like to curate, edit and feature a wide range of Native artists for the Fall issue of Aperture.
From the It Gets Better Project:
Connect with national and local organizations actively working to provide information, resources, and/or services to the Black LGBTQ+ community. You are loved.




From the Kellogg Foundation:
WKKF's new racial equity, diversity and inclusion resource:
One Journey
. One Journey shares lessons from the W.K. Kellogg Foundation's experience with organizational leaders, human resource professionals and
any
individual or organization looking to advance racial equity in nonprofits, business or community groups.
From the Chronicle of Higher Ed:
HIRING AND RETENTION
You think you can't afford to transform your faculty? The University of Houston begs to differ.
From Academic Impressions:
My dad and his brothers and their family. The photo is such a strange
around the couch framing. It makes me think the room must have bee
very narrow.
Today's Online Teaching Tips:
From HigherEd Jobs:
How to Impress Remotely
by Eileen Hoenigman Meyer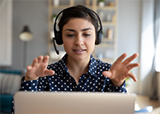 Are high stakes meetings, like job interviews, less unnerving when conducted remotely? While it does afford us the opportunity to have these conversations from the relative comfort of home, it can be difficult to feel like we're truly making the connection and impression we would be if we were physically meeting with our interviewers. Consider these tips for creating a comfortable, impressive presence for a remote context.
From Academic Impressions:
From the Harvard Institutes for Higher Education:
From Harmonize:
4 Tips to Encourage Creative & Original Discussions
Date/Time: September 15th | 12pm ET
Unicheck and Harmonize have joined forces to highlight how you can be creative and original with online discussions. Learn More
Richer Online Discussions Drive Better Engagement: Insights from Brown University
Date/Time: September 22nd | 12pm ET
Join James Foley, Assistant Director for Digital Learning & Design at Brown as he shares his experience working with faculty to cultivate a richer discussion environment. Learn More
From SAGE Publishing:
From a professor who's been there, I think it's fair to say that last semester was less about distance learning and more about crisis teaching. But this time around we can be much more purposeful and intentional.
That's where we're certain our Distance Learning Playbook for College & University Instruction will be of service to your faculty. Supplemented by video footage and opportunities to self-reflect and assess, it mobilizes two decades of research to reveal what works best and when in an online or hybrid learning environment.
See for yourself in this complimentary e-book. We hope you agree that our playbook will be of immediate benefit to your Humanities teaching staff.